Hey,
Steven Blush, a music journalist from NYC. we met over a dinner with his wife Alyssa who is a mutual friend. only after few weeks, I discovered this amazing and eclectic collection hidden in Steven's apartment on 5th ave. Hard core music, cheesy pop, loads of signed records, and an almost full catalogue of Black Flag. I was happy to enter this world of music which a I knew so little about. the cherry on top was discovering another music genre I didn't even knew existed... Hair Metal!!! Yeahhh!!!
so, my friends, it's time to pull those well buried tight leather pants and hit the power chords with great pride. rock on, yehhhhhhh!!! (please scream)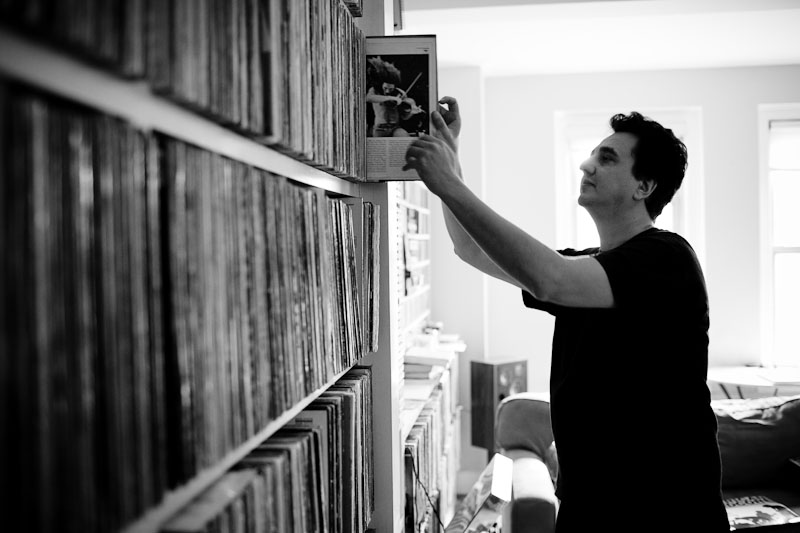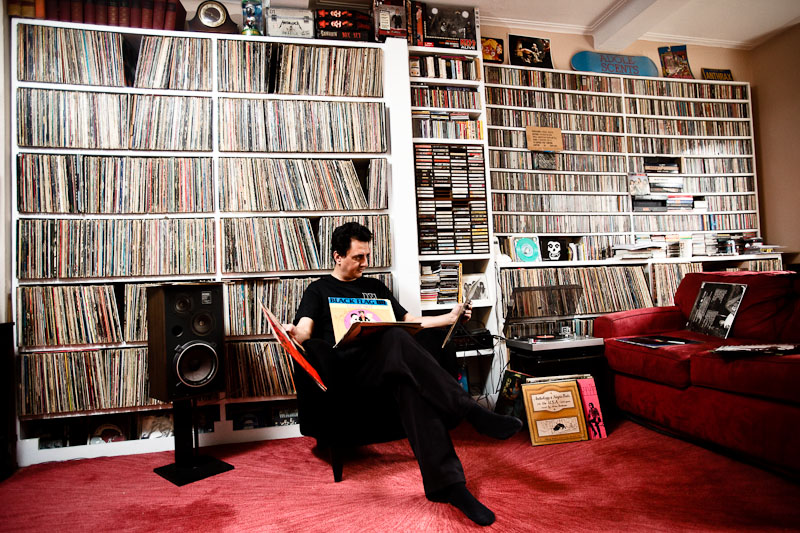 Q: Your full name, age and city.
A: Steven Blush, older than you, NYC
Q: What do you do for a living?
A: author/filmmaker – American Hardcore, American Hair Metal. New York club DJ 1985-2005
Q: What was your first album? How did you get it? At what age? Can you describe that feeling? Do you still have it?
A: Johnny Cash Ring Of Fire and I Walk The Line. I was like seven years old, my dad bought em for me at Sam Goody's on Route 18 in East Brunswick, NJ. I realize I was into to the fact that he was The Man In Black. And yes, I still have them.
Q: What prompted you to start collecting? what age did you start ?
A: In high school, I had 25-30 Hard Rock albums, Led Zep, Jethro Tull, Bad Company, Mott The Hoople and UFO. At 16, I went to London and caught the last whiffs of the Punk scene, like I saw The Clash before they toured the US (the show in their film Rude Boy when Sham 69's Jimmy Pursey joined on "White Riot"). After that, I was hooked. Back in Jersey, and in the Lower East Side where my dad worked, I spent endless hours in record stores, taking home what I could afford.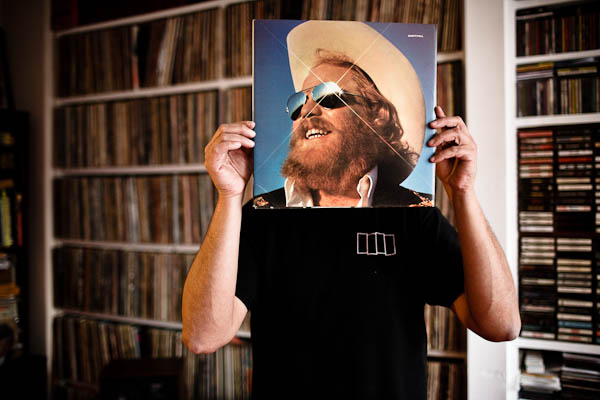 Dusty Hill of ZZ Top, from 1977's classic Tejas LP, posing as Steven Blush
Q: Do you remember the day when you switched from being a record listener to a record collector?
A: Not the exact day, but as music director of my college radio station in the early 80s, I contacted every underground band and label I could find listed in any music mag or zine. This was way before "Alternative," when these bands were a true alternative… Anyway, between the station's 20,000+ record library plus the hundreds I had coming in, it kinda took over my life…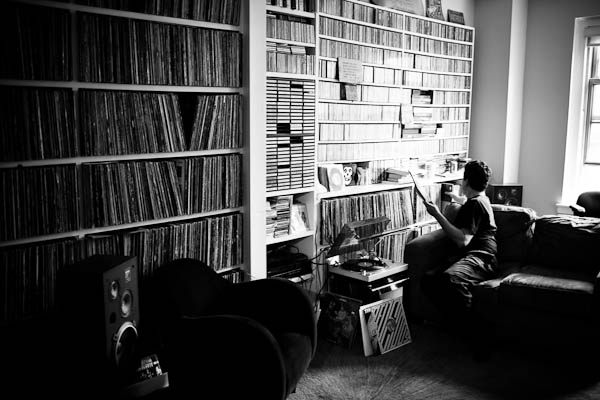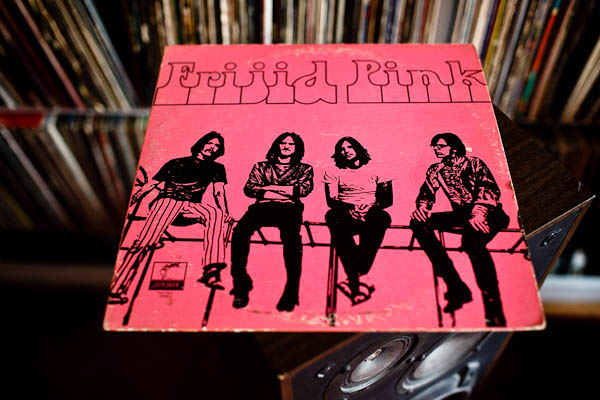 Detroit Rock's answer to a Soul band, made one 1970 self-titled album with a minor hit cover of "House of the Rising Sun"
Q: what was your Initial interest in music? did you get influence from your family?
A: There was very little music in the Blush house. My mom had a few Nat King Cole and Harry Belafonte albums, and my dad had a batch of bad operettas on 78rpm. As for instruments, the piano teacher told my parents not to waste their money. When I got really into music, everyone seemed very surprised.
Q: Why vinyl?
A: Vinyl is music's organic fruits and vegetables, CDs and MP3s are crappy junk food.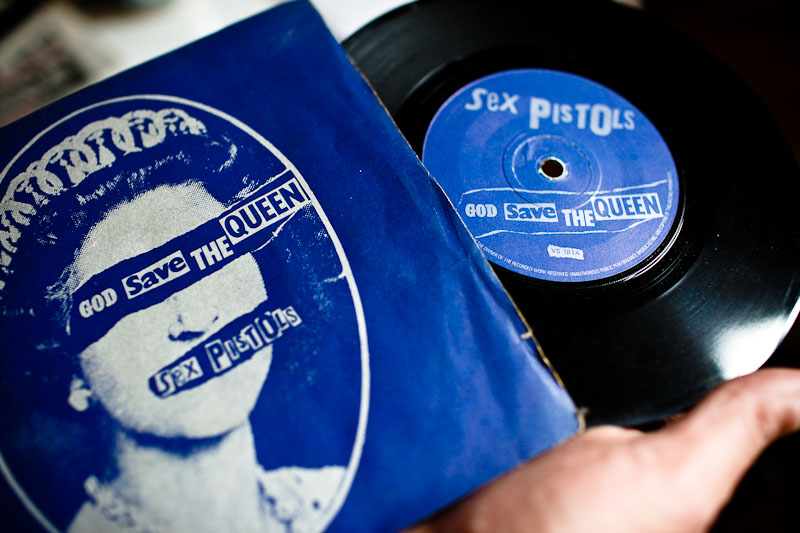 The very first Sex Pistols single, 1977's infamous "God Save The Queen"
Q: Any specific genre?
A: No limits, but heavy concentrations on Hardcore Punk, Hair Metal, DC Go-Go Funk, 80s NYC Hip Hop 12", Christmas novelty records and lots of crazy cover versions.
Q: Hair metal….?!!? what the hell? Is it the music or the hair or the tight crouch area? Most people would have these records locked deep down in the basement.
Dutch guitarist Adrian Vandenberg in 1985 before he joined Whitesnake
Tony Harnell from NY and three guys from Oslo who rocked in a Bon Jovi style
Wrathchild's Stakk Atack (1984), the worst example of airbrushed album art
1988's hit album by Britny Fox set new standards for big hair and frilly clothes
Tigertailz, Britain's biggest contribution to the Sunset Strip Hair Metal scene
A: Hair Metal is one of those guilty pleasures few people will admit to. I never dressed the part, so I have little to be embarrassed about. My DJ friends like to drop the occasional Rock breakbeat — AC/DC, Billy Squier — but I can blow them all away with phat beats by Poison or Warrant.
Q: So you decided to make a book out of it. That's interesting. As a documentarian, I wish I was there to document the book launch party.
A: The book release party in Hollywood was an outrageous mix of those who totally got the joke and those who definitely didn't. At the end of the night, I had a lingering feeling that the joke was on me!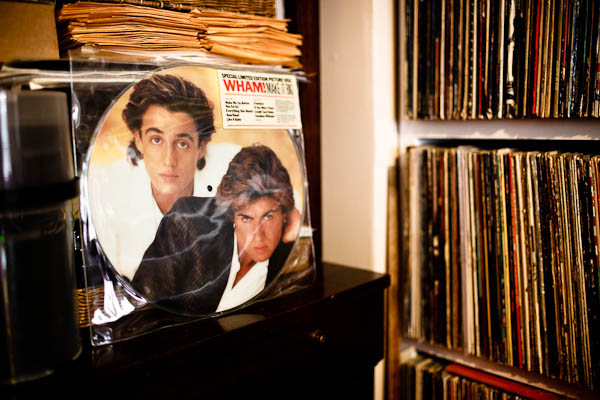 Q: Another famous hair piece, this time without the Metal, is the Wham picture disc laying proudly on your desk. what's your excuse?
A: I went into my wife's parent's basement to look at an old box of records, but only found one worth keeping!
Q: Do you travel to find records? where? how often?
A: I never travel to find records, but everywhere I travel, I search for used vinyl. So 4-6 times a year I come home with a stash. I've slowed down by buying habits, but I still get about 100 albums per year.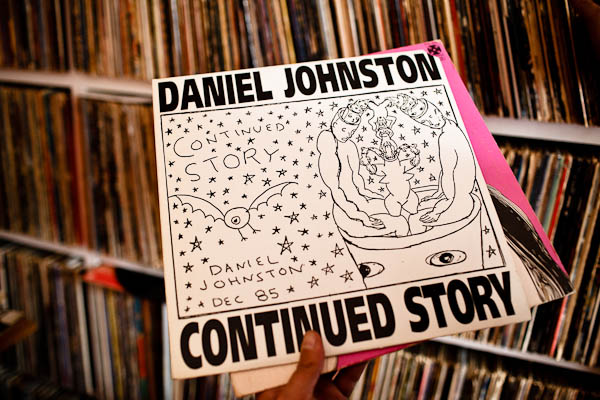 Texas musical mutant Daniel Johnston's vinyl debut from back in 1985
Q: How do you organize the collection?
A: Alphabetically, with separate smaller sections for 12"s, compilations and specialty records. It took me a full weekend, over 75 hours, to finally organize the collection, and it was the best thing I ever did. Now I can actually find what I'm looking for.
Q: Tell me a useful record storage / shelving tip!
A: Whatever you do, get all your records off the floor — own your record collection, don't let it own you! And build or buy very sturdy shelves because record collections weigh a lot. I built a half-wall to support my shelves from collapsing, as it weighs well over a ton.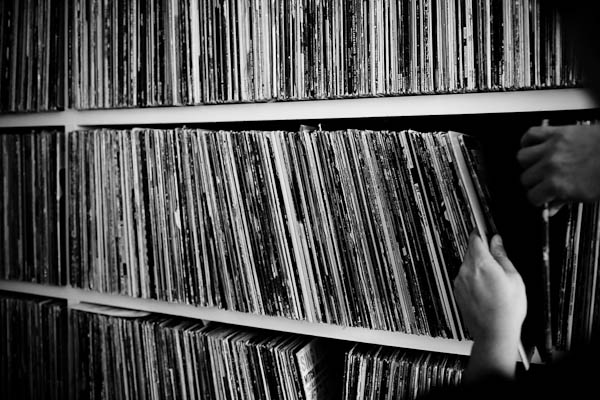 Q: What do you look for in a record?
A: I believe that every collector has an impulsive, uniquely personal reaction to vinyl. The artwork of course attracts me enough to check out the package, but that doesn't mean I'll necessarily buy it. I particularly dig cover versions of hit songs, the more over-the-top the better. But to find good records, you have to know a lot about music, you can't fake that. You gotta know what you're looking at. At the end of the day, it's all about the music…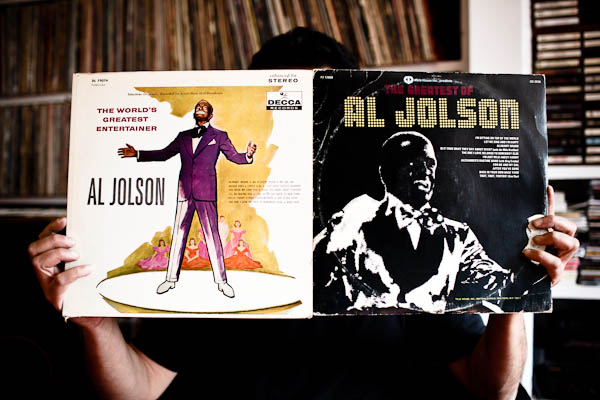 The original wigger, world-famous crooner Al Jolson, wore a black face
Q: What's your partners' reaction to this obsession?
A: Positive enough to marry her.
Q: Have you ever kept a particular purchase secret from your wife?
A: Other than drugs and hookers, no.
Q: Tell me about a closed down record store you will grieve all your life!
A: I never got over the closing of Freebeing Records (129 Second Avenue) in the 80s. Not sure I ever will.
Q: Tell me about the most unlikely place/occasion where/when you found records?
A: I got a Link Wray album at a Christian vegan restaurant in South Dakota.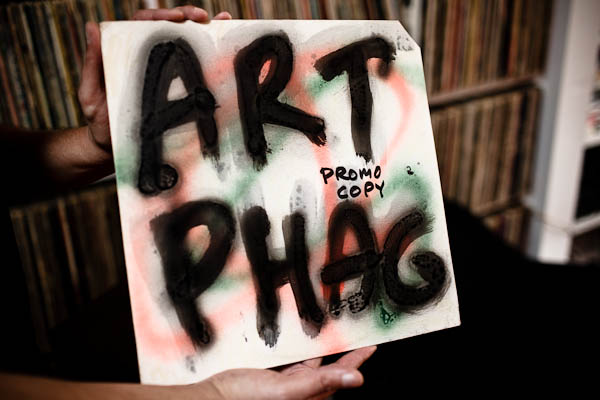 1987's handmade, spray-painted debut album by Detroit band Art Phag
Q: Name some golden finds from your collection.
A: I own two copies of the first Nirvana 7" individual numbered of 1000 copies, for which I was recently offered a few thousand dollars. I don't even know how much a Minor Threat test pressing or an original Sex Pistols single would fetch. I also have the first House Music hit "Jack Your Body" by Steve "Silk" Hurley (that I got for a quarter) and a whole bunch of Frankie Knuckles' original 12"s on Trax that I know are worth a few bucks…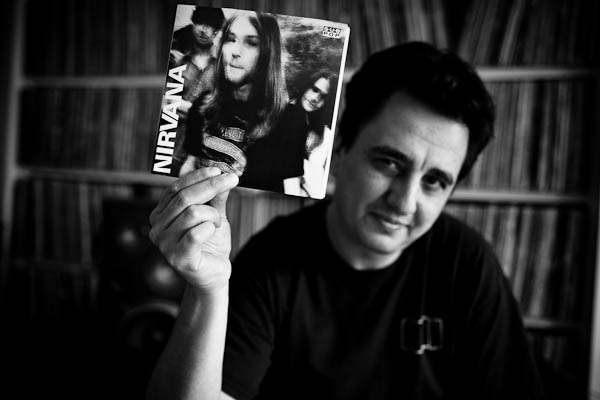 1988's first Nirvana single, "Love Buzz," with a young Cobain with hippie hair
Q: Do you have a record collecting philosophy or routine when you enter a store?
A: I go straight to the used records and look for the dollar bin. That's where magic still happens. Never ever pay full price!
Q: That leads into a fierce discussion. Some people say that there is not such thing as "digging" in record shops. Even if it's in the one dollar bin. What's your observation?
A: Any vinyl junkie will tell you that New York is totally picked over, and true, there's no more dingy record shops to do serious "digging." But you can still find plenty of stores with a box of used records out front, or if you go to the usual vinyl shops they still have used records but you may have to pay up to $5 per. But when I travel to LA once or twice a year, I still make a pilgrimage to Amoeba on Sunset and spend an hour on my kness flipping through their extensive dollar bin, spending $20-$50. And a few months ago in the California desert, I did such serious digging through a filthy vinyl-filled shed at a flea market where I seriously scored, that I had to to go take a shower. So there's still plenty of places to go "digging" — it just might not be a conventional record shops.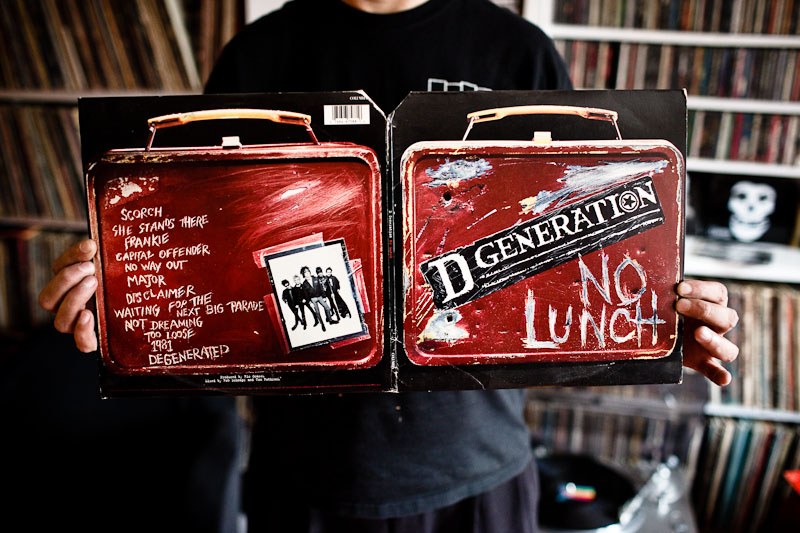 Punk revival pioneers D Generation's 1996 No Lunch album on double-10"
Q: Out of your great collection, there must be a few records that you like going back to at any time. What makes them so special for you?
A: I constantly go back to the same 25 or so albums, and they do transport you back to another time — similar to a drug fix but different in that with music the perfect high can be recreated… Recently there's been a lot of: the first House of Pain album, Social Distortion Mommy's Little Monster, Bob Marley Catch A Fire, Stills-Young Band Long May You Run, and Manowar Battle Hymns.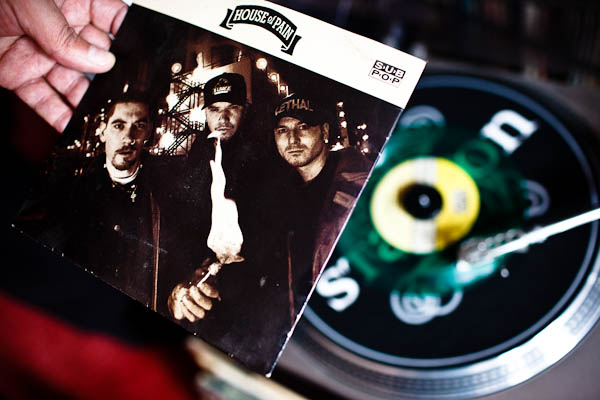 Q: What is your favorite album art? Any special reason?
A: Black Flag's Damaged (SST, 1981). A 19-year-old Henry Rollins punching a pane of glass, shot by the world's premiere Rock photographer Edward Colver. There's nothing more visceral and Hardcore than this…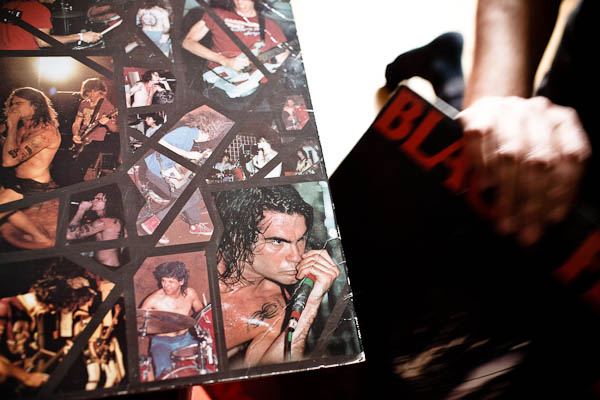 Rare 1984 photos of Henry Rollins of Black Flag with long hair and wearing a Speedo
Q: can you tell me more about your obsession for Black flag? what is it that made you collect all their records?
A: Black Flag was the definitive band of the early 80s — they were the suburban American response to Punk. For a few years, they were the greatest band on the planet. Their ferocious music, tireless work ethic and independent attitude changed the course of music history. They certainly changed me. I saw Flag play over 20 times and own every one of their records, from singles and albums to interview discs, demos and bootlegs. Every band I have seen since pales in comparison. Their historical minutiae gets well documented in my American Hardcore book and film (with director Paul Rachman).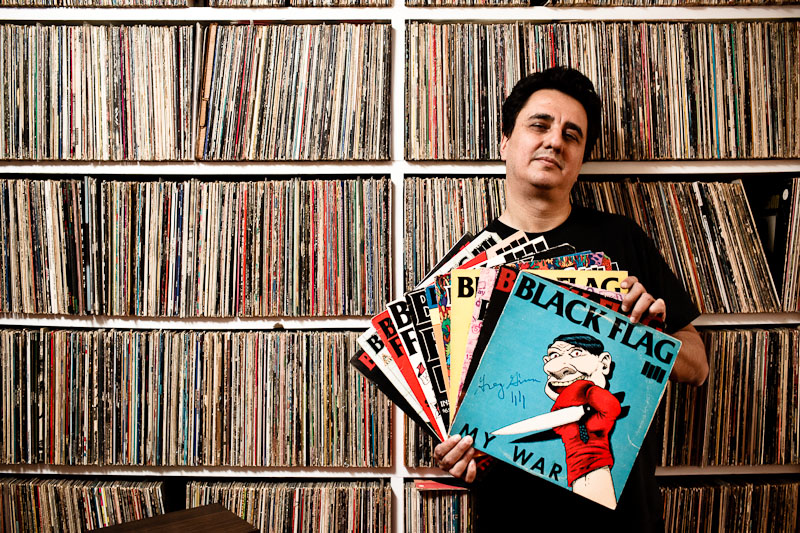 The Black Flag catalogue on vinyl, autographed by Greg Ginn
Q: so who's got the 10 1/2 inch???
A: Black Flag bassist Kira Roessler
Q: Dirtiest, sexiest , filthiest album cover you know or own?
A: Nig-Heist Snort My Load
Q: Tell me about a dollar bin record you would never part with!
A: William DeVaughn Be Thankful For What You Got or the first album by Tupelo Chain Sex.
Q: Is there a specific musical instrument that attracts you when listening to music?
A: Loud electric guitar still makes me lose my mind!! And smooth Jimmy Smith-style organ still groove me.
Q: Name a record cover that makes you laugh
A: Told Her Twice by Pitboss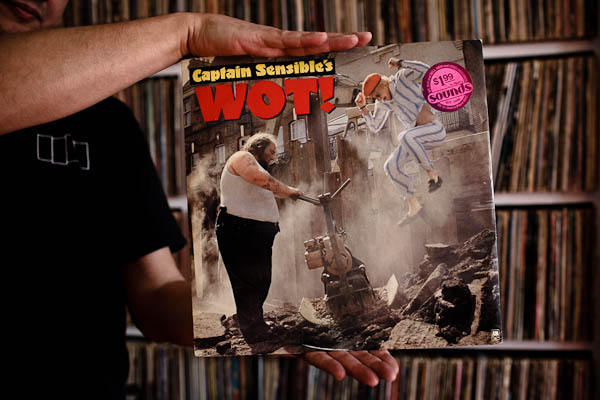 Q: What is the future of vinyl?
A: Record collecting is coming back in a big way. After the introduction of the CD, vinyl sales plummeted — there was only a small handful of us diehards keeping it alive. Now with the introduction of the MP3, CDs are now of zero value and vinyl has made a huge comeback. The future of vinyl looks strong.
Q: This is your question… Anything you want to say, add, observe, critisize, compliment
A: Record collections should be carefully cultivated, like in horticulture, where the healthiest plants get trimmed. Whenever I purge my collection of duplicates and duds, I enjoy it far more. I know too many "vinyl junkies" who've allowed the sheer size of their collections to overwhelm their lives — in every nook and cranny of their house or apartment. I love and respect many of these people, but it's clearly made them severly mentally ill. I strive for a healthy relationship with my vinyl obsession….
Sabbath Bloody Sabbath, signed by Ozzy, Tony, Geezer and Bill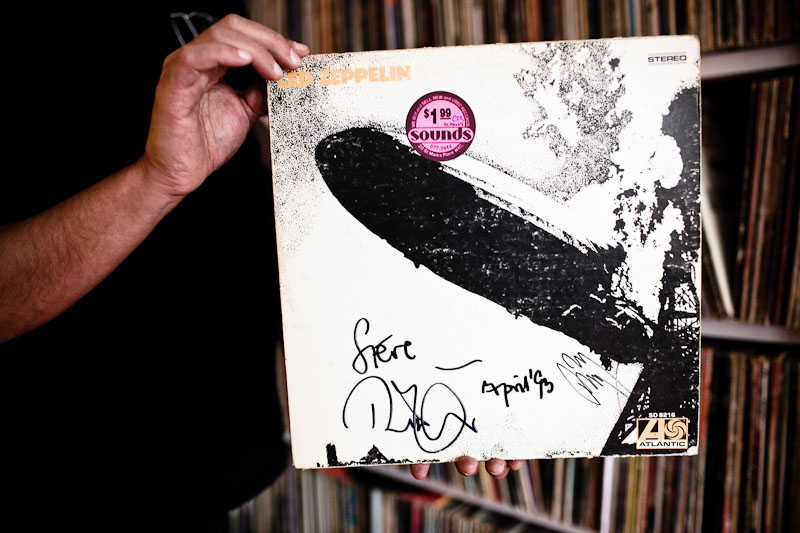 Led Zeppelin I, autographed by Jimmy Page and Robert Plant
To learn more about steven www.stevenblush.com